Benvenuti nel futuro del controllo di processo
Qualunque sia la vostra attività produttiva, miglioratela con il controllo di processo e il collegamento in rete The Hub® e CoPilot®.
Immaginate come sarebbe…
Se poteste dedicare la vostra giornata lavorativa a migliorare i processi invece di occuparvi di risolvere problemi. Al termine della giornata potreste andare a casa e trascorrere del tempo con la famiglia senza dovere rispondere a chiamate per semplici questioni di processo. Arrivare ogni giorno al lavoro sapendo esattamente che cosa è successo la notte precedente.
Immaginate come sarebbe se poteste produrre pezzi di qualità migliore in modo più efficiente a fronte di costi, responsabilità e stress inferiori.
A questo ci abbiamo pensato noi.

CoPilot®
CoPilot® è la tecnologia intelligente di ultima generazione per lo stampaggio a iniezione. Questo software semplice e intuitivo nell'uso rende più facile che mai garantire ai clienti solo pezzi della migliore qualità, riducendo al minimo gli sprechi di processo. Questo prodotto vi offre tutto quello che già apprezzate del sistema eDART® in un'esperienza completamente nuova.

The Hub®
Che siate in trasferta per lavoro, a vedere la partita di calcio di vostro figlio o a giocare a golf alle Hawaii, da qualsiasi luogo del mondo potete avere accesso immediato a una pagina riepilogativa che vi permette di verificare le prestazioni di ogni singola macchina. Accesso ai dati della cronologia, eseguire controlli e visualizzare l'andamento dei dati nel tempo. È ora di smettere di domandarsi cosa sta succedendo quando non si è presenti. Godetevi di più la vita.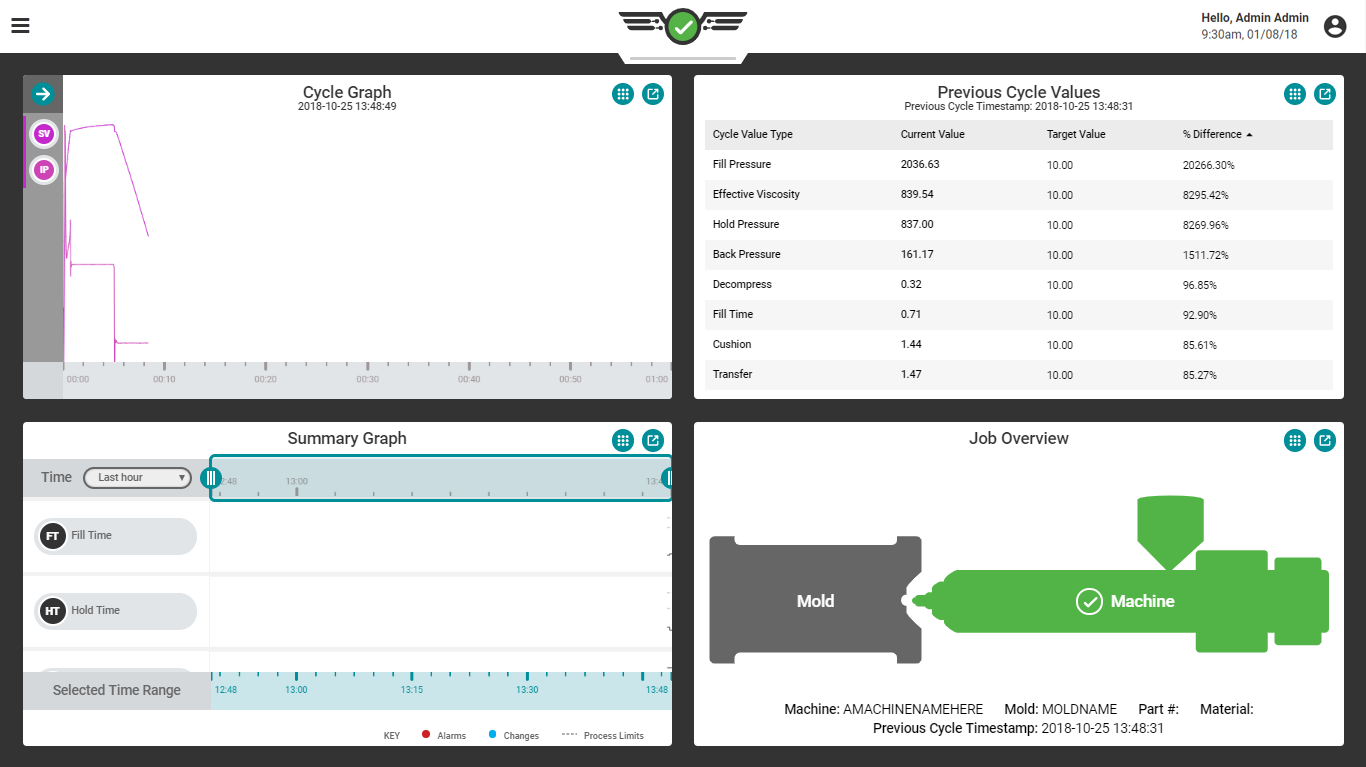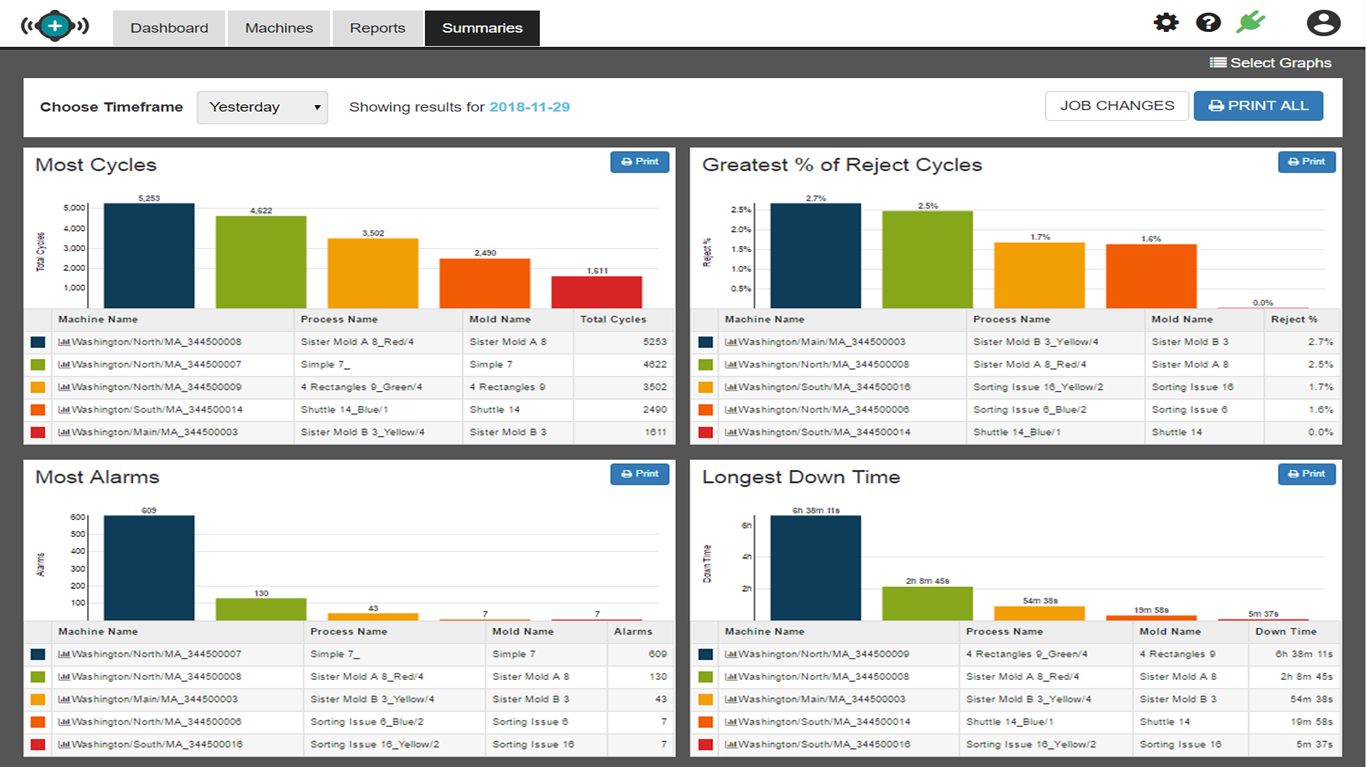 Scorrete questa presentazione facendo clic sulle slide per scoprire come il sistema di controllo di processo di nuova generazione può trasformare la vostra attività.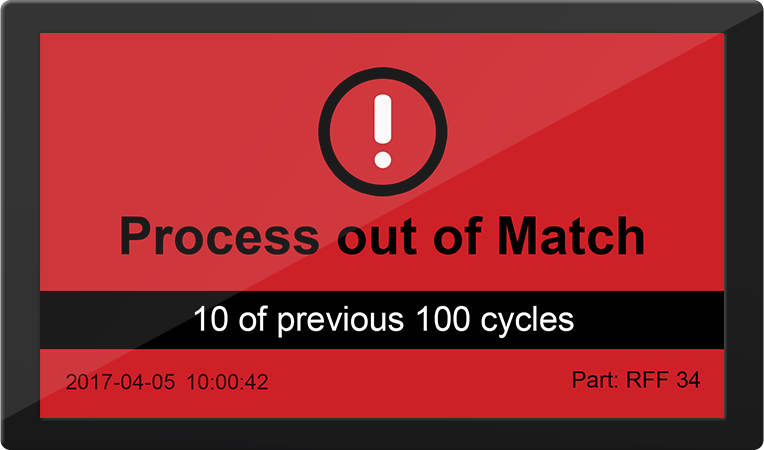 Ottenere informazioni importanti in un colpo d'occhio
Conoscere il momento in cui un processo devia dal modello e quanti cicli hanno prodotto pezzi di scarto in tutto l'impianto di produzione. Le schermate rosso e verde brillante segnalano immediatamente lo stato di funzionamento di una pressa.
Slide 1 di 9
Navigare senza difficoltà grazie a un'architettura semplice e intuitiva
Impostare nuovi ordini, visualizzare più record di dati contemporaneamente, personalizzare il pannello di controllo e visualizzare i dati della cronologia attraverso un'esperienza cliente completamente nuova. Scegliere tra i classici grafici dei cicli e i nuovi grafici a barre di facile lettura per fare sì che i propri processi possano essere compresi in modo ancora più semplice.
Slide 2 di 9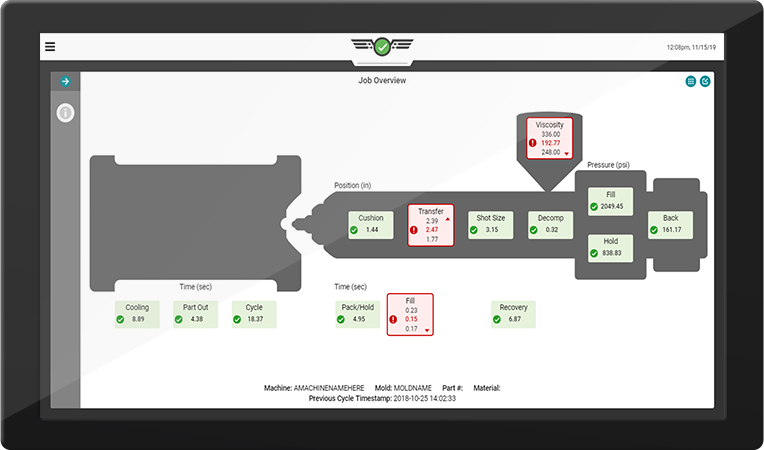 Approfondire i dettagli
Verificare con esattezza quali delle impostazioni si scostano dal modello grazie alla schermata riepilogativa dell'ordine. La viscosità è troppo elevata? Il tempo di attesa è troppo breve? È ora di smettere di premere pulsanti a caso e di conoscere in anticipo la causa di origine dei problemi.
Slide 3 di 9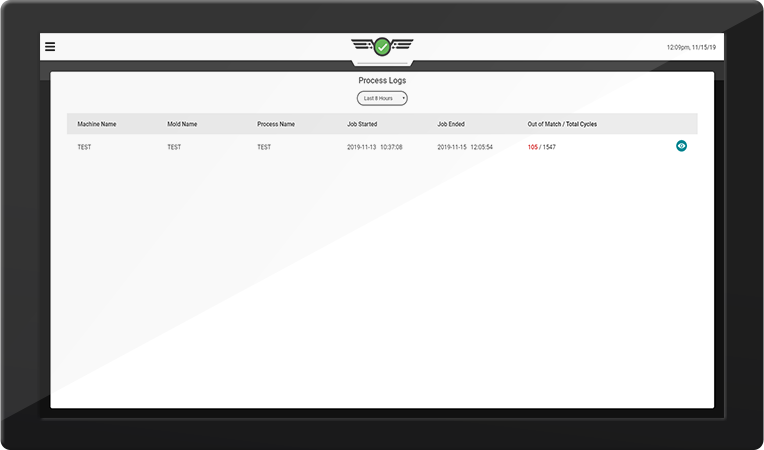 Sapere quali impostazioni della macchina sono state modificate e da chi
Non bisogna esaminare i pezzi non conformi o chiedersi cosa è successo a un processo di produzione la notte precedente, basta accedere ai dettagliati log di processo per sapere esattamente chi ha modificato il processo, perché, quando e come.
Slide 4 di 9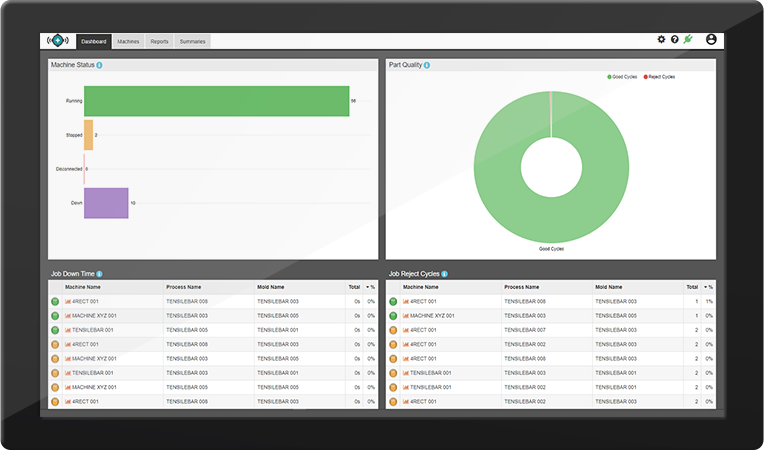 Accedere ai dati in tempo reale da qualsiasi luogo
Accedere ai dati in tempo reale di tutte le macchine da un qualsiasi luogo del mondo. Smettere di preoccuparsi degli eventi che possono verificarsi sull'impianto quando si è assenti. Grazie a The Hub® è possibile sapere immediatamente quali macchine sono in funzione, quali sono ferme o producono pezzi di scarto.
Slide 5 di 9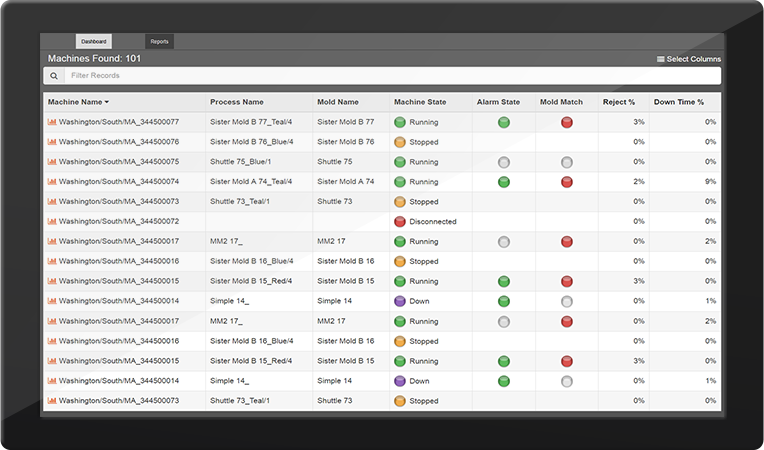 Creare ed esportare report
Visualizzare i dati di produzione più importanti in report personalizzabili. Ordinare, filtrare e trasferire i dati per vedere l'andamento della cronologia e i problemi più frequenti. Esportare in un formato condivisibile per verificare i processi e diminuire la responsabilità.
Slide 6 di 9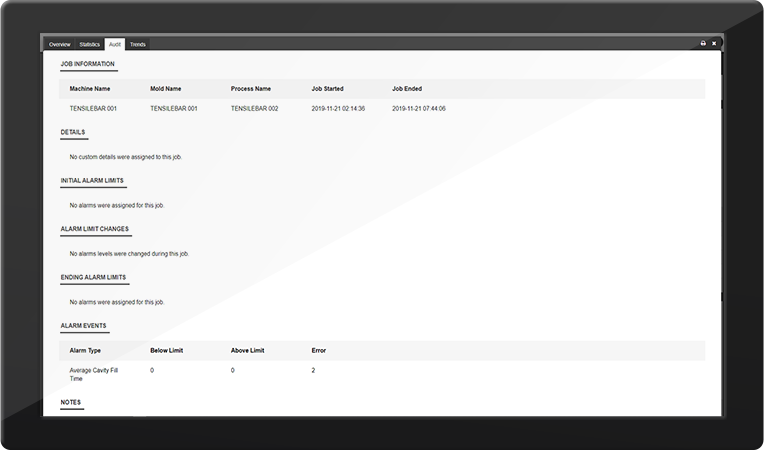 Visualizzare i report relativi ai controlli degli ordini
Stop ai processi di controllo manuali e utilizzare i report di controllo degli ordini automatici accessibili in qualsiasi momento durante o dopo un ciclo di produzione. Le soglie di allarme all'inizio e alla fine, le modifiche e gli eventi segnalano al produttore quanti pezzi sono stati scartati e se qualcuno ha modificato le soglie di allarme durante un ciclo di produzione.
Slide 7 di 9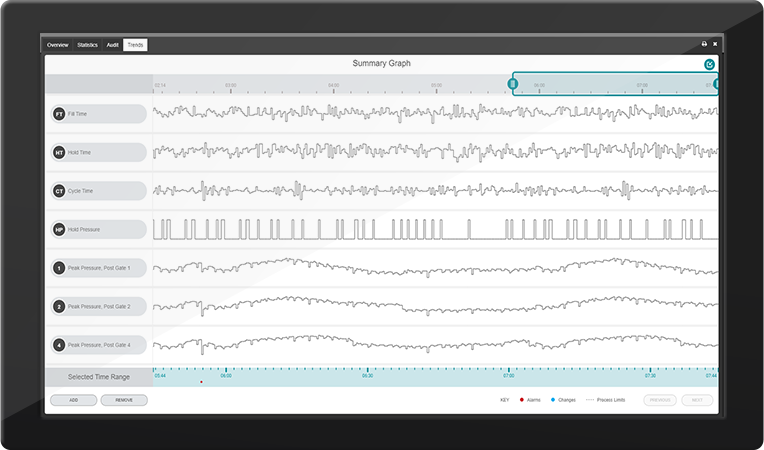 Riesaminare e riprodurre i dati della cronologia
Riprodurre i grafici dei cicli da qualsiasi data della cronologia per verificare i processi, vedere l'andamento nel tempo e dove è stata apportata una modifica ai processi. Ingrandire i punti specifici in un'unica pagina o rimpicciolire per vedere tutti i dati nel periodo di tempo.
Slide 8 di 9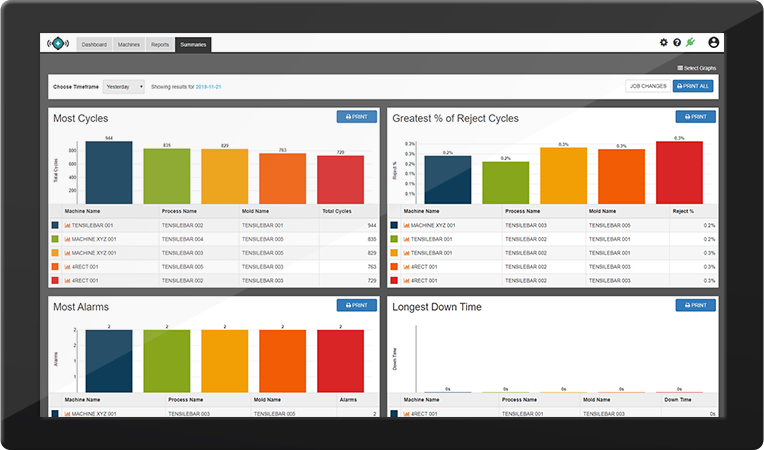 Scoprite i cinque vantaggi
Vedere rapidamente quali macchine producono la percentuale maggiore di cicli di scarto, i tempi di fermo più lunghi, la maggior parte degli allarmi, la maggior parte dei cicli e altro ancora. Questi dati servono a concentrare gli sforzi sulle macchine che causano i problemi maggiori e possono aiutare a individuare i problemi per prevenire eventi futuri.
Slide 9 di 9








"After it's all said and done we spend 40-45 hours a week having someone go machine to machine making sure that it's running to the validated setup. The CoPilot would greatly reduce the need for those manual checks.
"This software gives us the ability to generate a process log that tracks changes which is really critical to us moving forward as we are continually required to provide more documentation."
"I see this becoming a GREAT training tool for standardizing process troubleshooting. This also could be utilized as a perfect shift to shift communication tool."
"Riscontriamo moltissimi errori di impostazione e questo prodotto ci aiuterà a eliminarli!" – Cliente che ha testato la versione beta di CoPilot
La produzione intellligente ha inizio qui
Se desiderate ricevere più informazioni, compilate il modulo sottostante e vi risponderemo il più rapidamente possibile.
Vi interessa contattarci?